Like every Ramadan, drama series, sitcoms and other humorous series invade the screens of Algerians. And with the expansion of the public channel offer and the proliferation of private channels, the viewer has many options. In this article we present you the main productions of this Ramadan 2022.
drama series
National public television offers its loyal viewers three soap operas: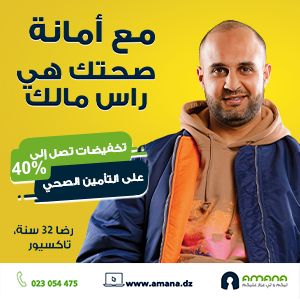 Quand les jours nous blessent
With Aziz Boukrouni, Moustafa Laribi, Fizia Tougourti and Nesrine Serghini. In a dramatic setting, Khaled, a complex character who dreams of having a child, goes to meet different people with whom he establishes tumultuous relationships, but life confronts him with a dream that seems lost.
The Moan of the Earth (أنين الأرض)
With Abdelhalim Zribi, Hassan ben Zarari, Najia Laaraf and Fatiha Soltan. In a dramatic context, Sahnoun, a fifty-year-old powerful character, lives in a small town and seeks to seize fertile land in order to carry out an urban project for the benefit of a foreign company.
Un jeu dangereux (Dangerous game)
With Azeddinn Bouraghda, Ahmed Maddah, Mohamed Islam Mokhtari and Farida Harhar. Detective series that tells different stories in each episode, unrelated to each other.
The private channel Elchourouk, for its part, will broadcast two drama series:
Babour Ellouh
The events of the soap opera deal with the bitter reality that Algerian youth lives; a young man who, in search of a better future, embarks on the extremely risky adventure of illegal immigration, or the price. Series written and directed by Nasreddine Souhili.
Yemma – Season 3
The events of the series turn, within the framework of the social drama, on the drama of divorce in algerian societyand the resulting problems. The series is written and directed by Madih Belaid. And it includes the brightest stars in the Arab world; as well as a team made up of Hamd Raghis, Mounia Benfeghoul, Malika Belbay, Mohamed Bounoughaz, Fizia Tougourti, Elias Salem, Marwa Bouchoucha, Sidahmed Goumi, Lydia Larini and Amin Mimoun.
The Ennahar TV channel has also prepared two soap operas:
Ben Leblad – Season 2
This work sheds light on the life of the authentic Algerian family living in towns and villages. This is a new tragicomedy series directed by: Mehsas Youcef; script and dialogues: Manel Messaoudi; with the participation of the actors: Tayeb Benaija, Barrah Nouara, Barkoun Lilian, Bouswalim Mohamed Najib, Noui Loubna, Nabil Chialy, Atallah Shaima, Kenza Moussous and many others.
Hab Mlouk (Love of Kings)
With Souad Soubki, Mina Lachtar, Mourad Oudjit and Mohamed Bouchaib. Series of romantic comedies that tells the story of the love of the kings in a romantic and humorous atmosphere.
This year, the sports channel El-Heddatf TV stands out with its dramatic telenovela El-Bouhali:
The Bouhali
With Souhila Ben Lachhab, Chams Eddine Dari, Moufida Addas and Mohamed Tahar Zaoui. Drama series whose events take place in a popular neighborhood of Algiers. We find there a girl who embodies the image of the ambitious arab woman fighting injustice of life, poverty and suffering.
comedy series
As for sketches and humorous series, the public will also be served. Here are some of the key programs for this month of Ramadan 2022:
Is3afcom (ambulance com) – ENTV
With Sabrina Koreichi, Sally Ben Nacer, Fatiha Warad and Nesrine Belhadj. Algerian drama, which deals, in a humorous atmosphere, with various topics related to health workers and ambulances.
Deqyous and Maqyous, Season 4 (دقيوس ومقيوس) – Elchourouk
With Nabil Asli, Nassim Haddouche, Charaf Bendaoud and Mohamed Chayed. As part of a satirical comedy, the series continues, in this 4th season, the story of two soldiers of the national army during the colonial era (Deqyous and Meqyous), and highlights their setbacks.
F90s, Season 2 (فالتسعين) – Elchourouk
With Mostefa Laribi, Mohamed Khasani and Souhaila Moallem. A comedy series that describes the life of a young man who lives in the past, precisely in the 1990s, in the way he dresses and behaves. A friend of his helps him find the love of his life.
Inspector Tahar in Hollande
With Hakim Traïdia, Fodil Assoul, Idir Ben Ibouche and Mourad Oudjit. As part of a satirical comedy, Inspector Tahar and his lifelong partner, Laprenti, decide to enter the competition for the best police inspector in the world, called the Golden Nose.