Every day, find the programming of movies and series to watch on TV. This Sunday: A female trio from hell, François Civil and Ana Girardot reunite with Klapisch for a modern love story and the sequel to "Handkerchiefs".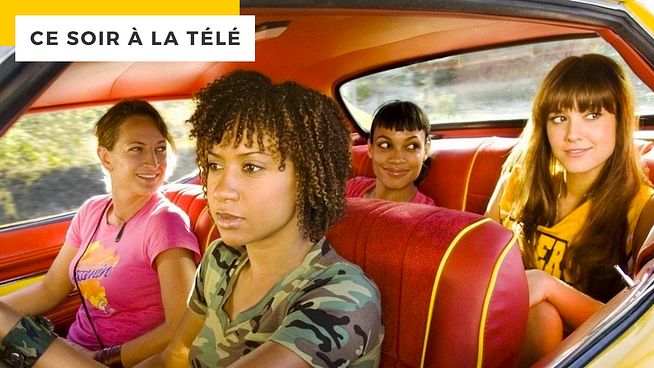 THE MOVIE OF THE DAY
In 2007, Quentin Tarantino and Robert Rodriguez had the idea of ​​shooting Grindhouse, a crazy double program that mixed eroticism and violence, interspersed with trailers, in reference to the homonymous operating systems.
Unlike in the United States, this concept is considered too unusual for European countries, where it is split into two: Rodriguez's zombie movie Planet Terror and Tarantino's slasher road-movie Death Boulevard.
The latter pays homage to the encore cinema of the 70s, in particular thanks to a particular image grain and untimely film jumps or chase scenes performed without computer graphics, where the actors themselves perform their stunts. This is the case of Zoë Bell, substitute for Uma Thurman in Kill Bill, who climbs at full speed on the hood of a racing car in one of the key moments of the film.
Despite mostly positive reviews, Death Boulevard was a commercial failure, grossing only $31 million worldwide. With an average audience rating of 3.6 on AlloCiné, it is indeed one of the least popular films in Tarantino's filmography.
A failure that puts into perspective, given that Death Boulevard today enjoys the status of a cult work that has given rise to three spin-offs: Machete, Machete Kills and Hobo with a Shotgun.
Quentin Tarantino's Death Boulevard with Kurt Russell, Rosario Dawson, Zoë Bell…
16 years old and up
This Sunday in Art at 21 pm.
TONIGHT ALSO ON TV
TF1 – 21:10
Skyscraper by Rawson Marshall Thurber with Dwayne Johnson, Neve Campbell, Chin Han…
From 10 years
Former head of the FBI Hostage Rescue Command and veteran of the United States Army, Will Sawyer is now responsible for the security of the skyscrapers. While assigned to Hong Kong, he is accused of starting a fire in the tallest and supposedly safest tower in the world. Considered a fugitive, Will must find the criminals, prove his innocence and above all save his wife and his two children prisoners of the burning building…
France 2 – 9:05 p.m.
Deux moi by Cédric Klapisch with Ana Girardot, François Civil, Camille Cottin…
Rémy and Mélanie are thirty years old and live in the same neighborhood in Paris. She multiplies missed dates on social media while he struggles to keep up. Both victims of this loneliness of the big cities, in a hyperconnected age. Without knowing it, they take two paths that will lead them in the same direction… that of a love story?
France 3 – 9:10 p.m.
Brokenwood with Neill Rea, Fern Sutherland, Nic Sampson…
Season 7, Episode 3: One morning, three men in dog masks enter the bank in Brokenwood, but nothing goes according to plan, and when the police arrive, the bank manager is found murdered in the room.
W9 – 9:05 p.m.
We will finish together by Guillaume Canet with François Cluzet, Marion Cotillard, Gilles Lellouche…
From 10 years
Worried, Max went to his house by the sea to recharge his batteries. His group of friends, who he hasn't seen for over 3 years, arrive by surprise to celebrate his birthday! The surprise is complete but the reception is much less… Max then plunges into a comedy of happiness that sounds false, and that will put the group in unexpected situations.
TMC – 9:05 p.m.
Hercule Poirot with David Suchet, Hugh Fraser, Sean Pertwee…
Season 13, Episode 5 – Hercule Poirot returns to Styles Court nearly 30 years after solving his first case with Hastings.
TFX – 9:05 p.m.
My best friend by Patrice Leconte with Daniel Auteuil, Dany Boon, Julie Gayet…
An art dealer makes a bet: he has ten days to find a best friend. He then embarks on a crazy casting call to finally set his sights on a warm, talkative taxi driver. He will seduce you to win his bet. But can we cheat with friendship?
TF1 film series – 9:00 p.m.
Emily's Shadow by Paul Feig with Anna Kendrick, Blake Lively, Henry Golding…
From 12 years
Stephanie seeks to uncover the truth behind her best friend Emily's sudden disappearance.